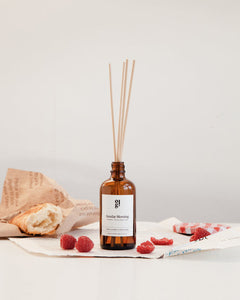 SUNDAY MORNING is inspired by sunny relaxed mornings, spring flowers, raspberry jam on toast, sweet pastries, fresh sheets, your favourite magazine, nostalgic records on repeat... the perfect Sunday morning. Enjoy long-lasting & continuous fragrance with Our Lovely Goods hand-poured reed diffusers, made with a plant-based & non-toxic diffuser base & premium fragrance oils.
~

Size: 100ml
Each diffuser comes with 8 natural fibre reeds & each blend lasts 3 to 4 months.
Usage
Remove lid & insert the reeds into the bottle. Allow the reeds to absorb the fragrance oil blend. Flip reeds weekly to refresh the scent
Reed diffusers work best in small to medium sized spaces;  bathrooms, hallways, living rooms & high traffic areas. Motion in the room will help to move the scent around
Warning
Do not light the reeds. Do not store near heat  Do not consume and keep away from children and pets. Avoid skin and eye contact. May produce an allergic reaction. If skin irritation occurs, wash with soap & water. If the oil spills, clean up immediately, as the oils and resins can cause damage to some finishes.