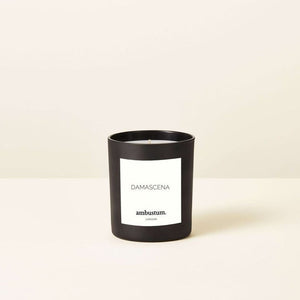 Damascena offers a luxurious fragrance experience, blending sweet & fruity notes of blackcurrant, damson plum, & mandarin with delicate floral scents of carnation, rose, lily, & geranium. The base notes of warm amber, smooth sandalwood & cedarwood create a seductive & romantic ambiance.
Made from coconut & rapeseed wax with the highest levels of fragrance possible, each candle is hand-poured in small batches in the London workshop. Our wicks are made from unbleached cotton, interwoven with linen thread.
~
Size: 220g
Burn Time: 50 hours 
Care: For the best performance, trim the wick to 5 millimetres after every use. The wick should always look short & upright for a clean burn. Allow the wax to fully melt to the edge of the glass before extinguishing to prevent tunnelling.
Each burn should not exceed 4 hours.
After use, you can clean your candle jar by filling it with hot water. Any remaining wax will solidify once cool & can be easily removed.
*Please note, as every candle is hand-poured there may be slight variations in the finished product.
Made in London.